OUR AGENCIES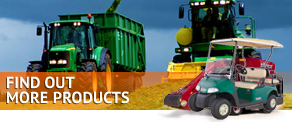 OMTAG SOLUTIONS DELIVERED
We are one of the leading trading companies in the Sultanate of Oman, since 1984. We have been in the forefront in the field of Agricultural machinery and professional Lawn and Garden care equipment. During the past many years, we have taken strenuous efforts to understand and cater to even the intricate needs of our clients, which include farmers and also corporate firms. As agriculture being one of the fast moving industries in Oman, we play an important role of acquiring and delivering the right products at the right place and in the desired time frame.

With an impressive lineup of products ranging from John Deere (USA/GERMANY), Sitrex (Italy), including other specialized companies from Europe and Japan, we have established ourselves as one of the professional machinery companies in the Sultanate of Oman.



OUR VISION AND MISSION
Our vision is to be the best agricultural, turf care, garden and golf course machinery suppliers in the Sultanate of Oman.

Our mission is to build a sustainable trading business that will contribute to the local economy, and Provide a high level of quality, commitment and customer satisfaction.
OUR VALUES
Integrity, honesty, fairness and transparency in all dealings.

We provide the best value to customers through c
ontinuous improvement industry leading
performance.

Honor its commitment.

We treat each other with trust, respect and dignity.